About Brent Furnish D.C.
Chiropractic Neurologist
Dr. Brent Furnish is one of the most seasoned doctors in the Louisville and Southern Indiana community.  He has been in practice for over 36 years.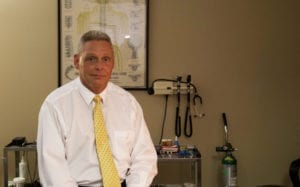 Dr. Furnish attended Indiana University majoring in human biology and psychology.  He then attended Logan College of Chiropractic in St. Louis, Missouri, receiving his Bachelor of Science degree in Human Anatomy and Physiology in 1976, and Doctorate of Chiropractic degree in 1979.
After practicing for 16 years, Dr. Furnish was not totally satisfied with the result he was achieving with many of his patients.  He returned to school for a 3 year (420+ hours), post doctorate course in Clinical Functional Chiropractic Neurology.   This course is offered to Medical, Osteopathic & Chiropractic Physicians who want to receive the most contemporary education in Neuroscience Evaluation and Treatment.
Dr.Furnish is only one of approximately 800 Medical, Osteopathic & Chiropractic physicians combined in the United States that has completed this extensive post doctorate education in Clinical Functional Chiropractic Neurology.  This modern neuroscience training was received at Logan College of Chiropractic via the post doctorate education department in cooperation with the prestigious Carrick Institute of Post Doctorate education.
This extensive post doctorate training as a Chiropractic Neurologist has broadened Dr. Furnish's ability to address a wide variety of neurological presentations including: peripheral neuropathy, balance-gait and vestibular problems, dizziness, memory-cognitive function problems, migraines, tension headaches, vertigo, various brain injury rehabilitations, movement disorders, and decreased ability to walk with age.   He also addresses chronic neck, back, arm and leg pain and numbness which have not responded to general and traditional Chiropractic or Medical care.
Dr. Furnish is licensed in Indiana by the State Board of Medical Registration in 1979 and the Kentucky Board of Chiropractic Examiners in 1979.
Dr. Furnish is active in his community and profession.  He is married to his lovely wife Glenda and together they have four children and seven grandchildren.  They make their home in Crestwood, Kentucky.
Click here for Dr. Brent Furnish's CV and educational background in Functional Chiropractic Neurology
*Free consultations, however, I am no longer offering free exams